Discover Visitors Guide
The official visitors guide for the Atherton Tablelands
The only comprehensive visitor guide delivering to visitor information centres, businesses, every camping and travel show across Queensland, the East Coast and South Australia and the gateways of Mission Beach, Port Douglas, Cairns and the Northern Beaches.
Produced annually, the Atherton Tablelands Discover Visitors Guide is the region's official tourist publication showcasing the many experiences and products the Atherton Tablelands has to offer.
Atherton Tablelands Discover Visitors Guide is the major in-print promotional vehicle for the Atherton Tablelands. It is designed to create awareness and interest in the destination to its target audience – potential visitors and current visitors – and encourage them to extend their length of stay in the region. By targeting information centres, car rental companies, accommodation tour desks, attractions, airports and other tourism related outlets, our partners are guaranteed their businesses will capture the attention of consumers that are in search of travel products and information on this region.
Tourism Atherton Tablelands (Atherton Tablelands Promotion Bureau Ltd) has been producing the Discover Visitors Guide for over 30 years. 
In the early years, members volunteered their time to produce the magazine.  Today, production is done in-house and is usually a cost-neutral project. Any profits that may arise, are returned back into the organisation to either support the next edition (particularly with increasing distribution costs) or back into general marketing funds.
Both Tablelands Regional Council and Mareeba Shire Council no longer support funding towards this very popular visitors guide.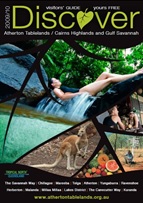 Another initiative delivered by Tourism Atherton Tablelands